The SX700 beamline at ASTRID
This was a surface science beamline on ASTRID, based on a SX700 monochromator and two electron energy analysers. The beamline was in operation on ASTRID from 1993 until 2013, when it was transferred to the new ring, ASTRID2. AU-Matline, as it is now called, is considered to be the Surface Science 'work horse' at ASTRID2. With a new endstation incorporating the Scienta electron energy analyser from the old ASTRID SGM1 beam line, the new AU-MatLine beam line is well suited for valence band and core level studies, and has, in the past, successfully been used for studies of e.g. metal on metal growth, reaction kinetics on metals and metal-oxides as well as catalysed oxidation of semiconductors.
The Monochromator.
The SX700 monochromator has a usable energy range from 20 eV to 700 eV. Typical flux values (for 100 µm slits) are ~1010 photons/sec. at 125 eV and ~109 photons/sec. at 600 eV. The energy dependence of the resolution of the SX700 monochromator is given by D E~E3/2 (for energies above 50 eV), and the resolution is shown in Fig. 1 for various slits.

Fig. 1: The energy dependence of the resolution of the SX700 monochromator, for the three most commonly used slits.
The electron energy analysers.
The system is equipped with two hemi-spherical electron analysers. An angle resolved 50mm mean radius analyser (VG-BLADES), and a fixed 100mm mean radius analyser (VG-CLAM2). A partial electron yield detector (for NEXASF etc.) can be fitted on the chamber upon request.
Additional equipment.
The end-station consists of a Mu-metal UHV chamber, and is equipped with a noble gas sputter gun, a LEED optic, a mass spectrometer, a gas inlet system, and facilities for alkalimetal and Barium evaporation. An X-ray tube is supplementing the SR from ASTRID.
The standard sample holder has e- bombardment heating, and can be cooled via a LN2 flow cryostat. The sample manipulator has x,y,z movements as well as polar and azimuthal rotations.

Fig. 2: Examples of valence band spectra recorded at the SX700 beamline with the CLAM2 analyser: A potassium modified Cu(110) surface, dosed with either CO or CO2.
For further information please contact: Zheshen Li,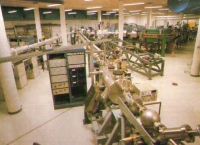 ---
Last Modified 30 August 2016