ASTRID
ASTRID is an old, nordic feminine name, but it is now also an acronym for
Aarhus STorage RIng in Denmark.
ASTRID is a dual-mode ring which can store electrons or ions of either polarity.
At ISA, we have several facilities for the production and storage of ions, electrons and positrons.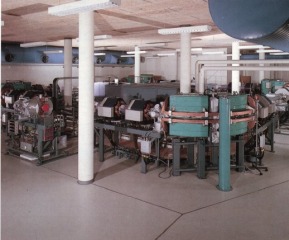 ---
Layout of ASTRID and ancillary facilities

Click to view in a larger version.
Operational Modes
For many years ASTRID was used in both ion and electron storage modes, with approximately half the year allocated to each mode. With the construction of the Electrostatic Storage Ring for Ions (ELISA) in 1998, and the increasing demand for synchrotron radiation, the ion storage runs were gradually reduced, until finally in 2005 ASTRID operated in ion storage mode for the last time. Since then ASTRID has been operating in electron storage mode throughout the year, with 3 or 4 electron runs, separated by shutdown periods for maintenance and development of the ring.
Other Information
---
Last Modified 04 January 2013