Planetary Simulation chamber for planetary low density atmospheres and surfaces

Provided by: Astrobiology Center (CAB); INTA

Homepage:
Scientific Contact:

Felipe Gómez Gómez, Extremophiles Laboratory, Email:
and
Eva Mateo Martí, Simulation Planetary Atmospheres Laboratory, Email:
Carretera de Ajalvir,
Km 4 Torrejón de Ardoz
Madrid, Spain

Phone 00 34 91 520 6461 Fax 00 34 91 520 1074

Local administrative contact (once a TNA visit is awarded):

Mari Paz Blanco
Coordinación y Planes INTA
Email:

Phone 00 34 91 520 1690 Fax 00 34 91 520 1612
Facility Description
Data obtained from the experimental facility
IR spectra at planetary conditions
Chemical composition of the environment by mass spectroscopy
UV spectra at planetary conditions
Stability of planetary materials under:

T and P
Radiation (UV, e-, Ar+…)

Radiation tolerance of microorganisms
Determination of exogenous processes
Summary of the technical specifications:
Total pressure range from 5 mbar to 5x10-9 mbar. Partial pressure of the gasses can be set with this precision.
Temperature range from 4K to 325K
Gas composition is regulated via a residual gas analyzer with ca ppm precision
Sample size range from 5 to 35mm
Available irradiation sources: up to 5 KV-ions (ions) 5 KV-electrons and Deuterium UV lamp.
Analysis techniques: UV spectroscopy, infrared spectroscopy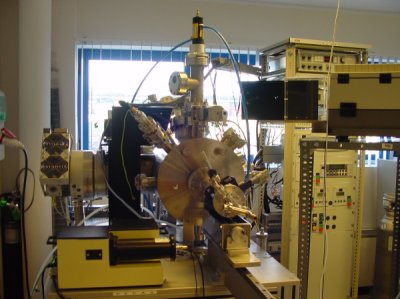 Facility Applications
Facility References
Selected relevant publications
A chamber for studying planetary environments and its applications to astrobiology
E. Mateo-Martí, O. Prieto-Ballesteros, J. M. Sobrado J. Gómez-Elvira and J. A. Martín-Gago
Measurement and Science Technology 17 (2006) 2274-280.
Near-UV transmittance of basalt dust as an analog of the Martian regolith: implications for sensor calibration and astrobiology
G. M. Muñoz Caro, E. Mateo-Martí and J. Martínez-Frías
Sensors 6 (2006) 688-696
UV-Photostability of Adenine on gold and silicon surfaces
E. Mateo-Martí, C.M. Pradier, J. A. Martín-Gago
Astrobiology 9 (2009) 573 - 579
The stability of liquid saline water on present day Mars
M.P. Zorzano, E. Mateo-Marti, O. Prieto-Ballesteros, S. Osuna, and N. Renno
Geophys. Res. Lett. 36 (2009) L20201.
For information on the Europlanet TNA programme contact:
Professor N J Mason, Department of Physics and Astronomy, The Open University, Walton Hall. Milton Keynes, MK7 6AA
Email (preferred method of contact)


Print this page